REA Welcomes Johnny Wehmann to its Commercial Brokerage Team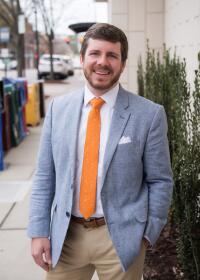 Real Estate Associates (REA) is pleased to announce that Johnny Wehmann has joined REA as a Commercial Broker.
Johnny brings a 13-year background of diverse real estate experience to Real Estate Associates, including commercial brokerage, commercial property management with a focus on retail and office properties, and management/development of Multi-Family housing. While he practices commercial brokerage throughout the Triangle, Johnny has found a niche working in Chatham, Durham and Orange Counties.
Outside of work, Johnny enjoys spending time with friends and family. He can regularly be found at local music venues and sporting events. He especially loves going on outdoor adventures with his wife Catherine and two dogs, Dash + Emmie.
We're excited to have Johnny join the team. Please add him to your contact list and feel free to reach out to him at (919) 287-3218 or jwehmann@realestateassoc.com for any commercial brokerage needs.