Seth Jernigan Takes Helm as President of Real Estate Associates, Inc.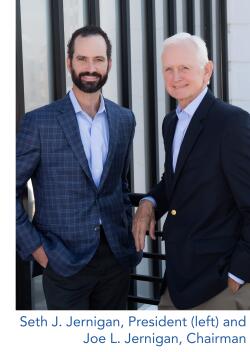 REA is excited to announce that as of October 1, 2018, Seth J. Jernigan took the helm as president of Real Estate Associates (REA). At the same time, Joe L. Jernigan, REA's president since 1978, became the firm's chairman of the board. The father-son team has worked together at REA since Seth joined the company in 2003.
On the change, Joe said, "We celebrated the 50th anniversary of the opening of REA this year. My mentor, Charles Wellons, founded the company, and I have served as president for 40 years. Seth is ready for this role and, under his leadership, I believe REA will have many years of success. We have a strong, experienced team, many who measure their tenure in decades, who appreciate the continuity of leadership, as well as the level of energy Seth brings. Our leadership styles are similar, and we are fortunate to have always gotten along well. Seth brings a structured, analytical approach and we have already experienced the value of his insight. As chairman, my role will be to support him and the company and to offer guidance when needed."
A 2000 graduate of North Carolina State University, Seth joined REA fifteen years ago after working at Accenture, a global management consulting firm in Charlotte, North Carolina. In his initial role at REA, he served as director of business development, including responsibility for marketing, business development, commercial brokerage, sales and leasing. Under his guidance, the commercial brokerage division grew from one person to a team of twelve. He earned the designation of Certified Commercial Investment Member (CCIM) from the CCIM Institute, conferred upon commercial real estate leaders who have a proven record of success and have demonstrated a mastery of financial, market and investment analysis. It is held by a small percentage of commercial real estate practitioners nationwide.
            "In a word, I'm excited," Seth shared on taking the reins. "We serve a thriving market that continues to experience a great deal of growth, which means there is a lot of opportunity. REA has a good reputation and a track record of meeting the commercial brokerage and property management needs here. My goal for REA is simple: to build on our strong foundation by taking advantage of the opportunities available to us. We will continue to focus on delivering the absolute best service to our clients and making REA a great place to work."
            Following the philosophy that building a company the right way is to play the long game of building relationships, good will and a solid reputation, Seth is committed to continuing the company's legacy of service. A Durham native and resident, he is past president of the Rotary Club of Durham and past chairman of the Tourism Development Authority Board of the Durham Convention and Visitors Bureau.